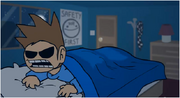 In real life,
Thomas Ridgewell
 (Tomska) created his own flash series named
asdfmovie
, which has been referenced in some of the
Eddsworld
episodes as a poster that reads SAFETY FIRST, the slogan of the series.
Appearances
Ruined
While Edd is in Tom's room smashing a spider with his bass, the poster can be seen in the background.
Hammer and Fail
At the end while Tom is complaning about Matt making noise the ASDF poster is in the background.
Decoy Pt. 1 (comic)
While Tom is reading a magazine, an I Like Trains poster can be seen behind him.
Eddsworld intro
If you look carefully, you can see Tom wearing an asdf shirt before his hoody appears.
Spares
2 asdfmovie toys can be seen in the claw machines.
Ad blocker interference detected!
Wikia is a free-to-use site that makes money from advertising. We have a modified experience for viewers using ad blockers

Wikia is not accessible if you've made further modifications. Remove the custom ad blocker rule(s) and the page will load as expected.