TOM! GET THAT ENGINE WORKING!
This article is a stub. You can help Eddsworld Wiki by expanding it.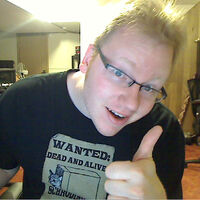 Todd Bryanton (born August 8, 1981), mainly known under his YouTube username LilDeuceDeuce, is the Eddsworld musician, he also works with Thomas Ridgewell on his own videos. He is from Canada, like Hellucard. 
Trivia
According to Todd himself from the Eddsworld Heroes of Animation, it takes generally a week to make the score for Eddsworld.
He did the music for Space Face Part 2, as well as the song for Trick or Threat.
The Do The Flop Guy from TomSka's asdfmovies is based on him.
Ad blocker interference detected!
Wikia is a free-to-use site that makes money from advertising. We have a modified experience for viewers using ad blockers

Wikia is not accessible if you've made further modifications. Remove the custom ad blocker rule(s) and the page will load as expected.