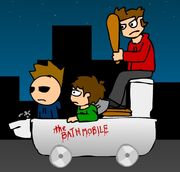 The Bathmobile is a speeding bathtub in which only appeared in the eddisode Eddsworld Zombeh Nation where Edd, Tom and Tord fly out of the door in with the words 'The Bathmobile' written on the side of the bathtub. This vehicle was Tom's idea as a part of his escape plan to escape the Zombeh infested in the old house. The song in the background is a pitch-changed version of "Running in the 90s" by Maurizio De Jorio.
It appears in the opening sequence of The End (Part 1).
Ad blocker interference detected!
Wikia is a free-to-use site that makes money from advertising. We have a modified experience for viewers using ad blockers

Wikia is not accessible if you've made further modifications. Remove the custom ad blocker rule(s) and the page will load as expected.