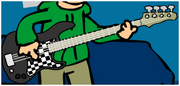 Susan is Tom's electric bass guitar. It was first seen in Ruined. She is easily Tom's most prized possession, as he is very protective of her. She makes recurring appearances in episodes. In the later episodes she appeared in, she had bandages on her neck because of what took place in Ruined. She appears to be a Fender Precision Bass  with a Fender Stratocaster pickguard. Interestingly, in real life, Tom's bass is actually a Music Man Stingray 4.
Appearances
Gallery
Ad blocker interference detected!
Wikia is a free-to-use site that makes money from advertising. We have a modified experience for viewers using ad blockers

Wikia is not accessible if you've made further modifications. Remove the custom ad blocker rule(s) and the page will load as expected.