Shoe is a character that has a major role in MovieMakers. He gives Laurel a lead role for Space Cats after turning down Diwi and Ian because he loved Laurel's shoes.
He played the role of the president in the Space Cats movie. After the credits, Edd notices Shoe having sex with Laurel's shoes (which he had obtained after knocking Laurel unconscious). Shoe also made an appearance on a picture in part one of Hammer & Fail.
Shoe later made a cameo in part one of The End in the hall of spoils, which exhibited the treasures the gang got during various adventures they went on without Tord.
Trivia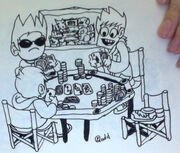 References