Shoe

One of Tord's shoes.

Name

Shoe

Color

Grey

First appearance

Last appearance

The End (Part 1) (Cameo)

Quotes

"Ooh mama"

Voice Actors

Jason Breck
Shoe is one of Tord's shoes that he left behind when he moved out. It had a main role in MovieMakers, as the director choosing the actors. He eventually chose Laurel after turning down Diwi and Ian because he loved Laurel's shoes.
He played the role of the president in the Space Cats movie. After the credits, Edd notices Shoe having sex with Laurel's shoes (which he had obtained after knocking Laurel unconscious). Shoe has also made an appearance on a picture in Hammer & Fail (Part 1, Rival Builders).
Shoe later made a cameo in The End (Part 1) on the hall of adventure spoils, that the gang went on without Tord.
Trivia
It was originally thought to have been Tom's shoe, but that was disproven in a tweet by TomSka.
In the 2004 Eddsworld Christmas Special, Tord has a shoe with similar colouring to shoe that he tosses at Loud Bob off screen, similar to how Shoe "assaulted" Matt.

Tom confirmed Shoe's previous owner was Tord, however it's unknown if this is the same shoe from the Christmas special.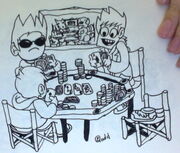 Ad blocker interference detected!
Wikia is a free-to-use site that makes money from advertising. We have a modified experience for viewers using ad blockers

Wikia is not accessible if you've made further modifications. Remove the custom ad blocker rule(s) and the page will load as expected.