TOM! GET THAT ENGINE WORKING!
This article is a stub. You can help Eddsworld Wiki by expanding it.

"No! Not the vase!"
— Matilda
Matilda is the female counterpart of Matt in an alternate universe seen in "Mirror Mirror".
Appearance
She has a light purple hoodie and a green jacket from her counterpart of Matt, a light purple comb-like ribbon tied and orange, straight hair.
Trivia
As Dazeem smashes a nearby vase Matilda yells "No! Not the vase!" as reference to Matt in "Space Face" parts 1 and 2 (Part 1 being a flashback/foreshadow of the final moments and in Part 2 yelling "No! Not the face!").
She can also be seen in the background in a picture frame in Matt's new room in "The End (Part 2)".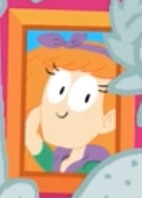 Ad blocker interference detected!
Wikia is a free-to-use site that makes money from advertising. We have a modified experience for viewers using ad blockers

Wikia is not accessible if you've made further modifications. Remove the custom ad blocker rule(s) and the page will load as expected.