Eddsworld's main characters are Edd, Tord (who left in 25ft Under the Seat for his own personal reasons) Matt, and Tom. Edd is the show's protagonist, Tom is the deuteragonist, and Matt is the show's tritagonist. Tord used to be the tetartagonist until he left. Edd's original voice actor (Edd Gould) died on the 25th of March in 2012 and was replaced by Tim Hautekiet.
"It's pretty swell!"
Edd is the show's main protagonist. He is known to have an addiction to Cola and bacon. His attire normally consists of his signature green hoodie over a grey T-Shirt that says "Smeg Head" He wears tan pants and green shoes. He is the second-most sane person on the show.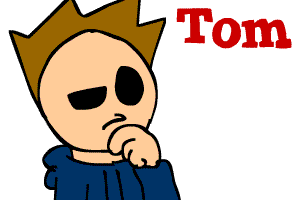 "Holy reused joke on a web toon!"
Tom is the show's deuteragonist. He is known not to have eyes, but instead has holes where his eyes should be. Originally, all he had on his face was a unibrow. His attire consists of a blue hoodie over an ASDF shirt that says "Stay Safe". He wears dark blue (sometimes black) pants and black and white checkered shoes. He is also the sanest person ever encountered throughout the series.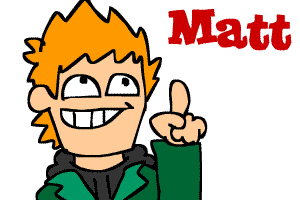 "NOT THE FACE!"
Matt is the tritagonist of the show. Originally he was just a recurring character, but when Tord left, that changed. His normal attire consists of a purple hoodie (originally black) over a shirt that says I <3 M@ and he wears a green overcoat over that. He wears blue pants and black shoes. He is know for being incredibly narcissistic and vain, but also naive and dumb. He is the third-most sane person on the show.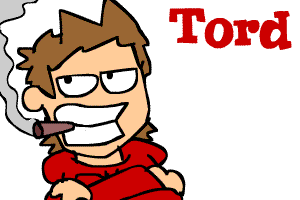 "So this is Hell, what a sight."
Before Tord left, he was the show's tetartagonist (having left the show in 2008 for personal reasons). His normal attire consists of a red hoodie (originally black like Matt's). He has black (or dark grey) pants and grey shoes. He is known for being a generally violent and trigger-happy character. He is the least sane individual encountered during the show as of yet.