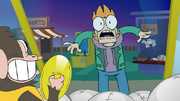 Little Tom
(Also known as LEEETLE TOM) is
Matt
's toy monkey-turned-
zombeh
during the events of
Fun Dead
, it is currently in Matt's "Novelty Toy Collection"; despite it's name
Tom
hates it, just like all of Matt's other toys.
After winning Little Tom, the real Tom threw him at a group of zombies, blowing the undead up and, possibly, becoming Zombeh Little Tom in the process. Zombeh Little Tom made a appearance in The End on the shelf.
Gallery
Trivia
A cymbal playing monkey toy similar to Little Tom can be seen in Zombeh Nation when Matt is looking for a weapon in the Zombie-infested train station. This could be where the idea for Little Tom originated.
It's unknown whether Zombeh Little Tom is the one Tom threw at the zombehs, or the one from the "rigged" claw machine in which a zombeh ate.
Real Tom throwing Little Tom at a crowd of zombies is a reference to the Monkey Bomb from Call of Duty Zombies, which functions similarly while attracting zombies.