.
Welcome To The Eddsworld Wiki!

What is Eddsworld and the Eddsworld Wiki?
Eddsworld
is the fictional world of the late
Edd Gould
, spanning multiple forms of online media. His creations can be seen on sites like
Newgrounds
and
YouTube
.
Edd's family and close friend, Matt Hargreaves, are creating new weekly comics and an animation that has yet to be released. They also re-launched the official website on New Years 2017.
The Eddsworld Wiki is a wiki created to document everything Eddsworld - animations, comics, games, the crew, etc. It's also a place for fans to post blogs and share the latest Eddsworld news. The wiki can only be improved with your help, so sign up and start contributing today! However, before contributing, please read our rules of this Wikia so you can be sure you aren't breaking any.
Cast and Characters
Latest Video Uploaded: March 16th 2016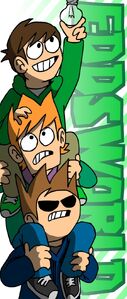 Next Episode
Latest Comic

Featured Article

Trick or Threat
Vote here for a Featured Article.
Community Projects

Not sure where to start?
Create Articles!
If an article doesn't already exist (don't forget to search) use the box below to create the appropriate page.
BE SURE THAT THE ARTICLE YOU ARE PLANNING TO CREATE DOES NOT EXIST ALREADY!
Community
Please visit the Forums for information regarding the selection of a Eddsworld Wiki Administrator.