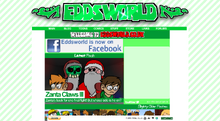 Eddsworld.co.uk is the database of Edd Gould's Flash animations and comics. Anything relating directly to Eddsworld is viewable on the site as it allows access to Edd's Comics and Cartoon Flashes, as well as the Unrelated Doodles of the man who started it all.
The website was also a way of ordering Eddsworld merchandise such as sweaters and jumpers sporting the emerald green whilst also offering different colours. The website was been seen as more handy when viewing videos, as all of Edd's flashes appeared on the website before YouTube.
The site has a green theme and layout, which makes it more relevant to Edd's personality. It also has Edd's Twitter base.
From March 29, 2012, the website redirected to the video announcing Edd Gould's death,[1][2] and in June 8, 2012, going to the link redirected users to the "Eddsworld: Legacy" fundraiser video.[3][4]
According to Tom Ridgewell in a Q&A interview, the site was shut down a month or two before Edd's death due to a virus problem.
On December 22, 2016, the official Eddsworld account tweeted the URL to the website. On January 1, 2017, the website was opened to the public and a new comic released the same day.[5]
It is still possible to access the old Eddsworld website via the Wayback Machine. However, you can only see the website from 2006-2017 and some functions of the website do not work (e.g: flash eddisodes and games will not load)
During a livestream, Edd promoted the Eddsworld shirts by showing the website on the stream
References
Ad blocker interference detected!
Wikia is a free-to-use site that makes money from advertising. We have a modified experience for viewers using ad blockers

Wikia is not accessible if you've made further modifications. Remove the custom ad blocker rule(s) and the page will load as expected.