"Edd may be gone, but his world will keep on spinning."
— Thomas Ridgewell
On Sunday, March 25, 2012, Edd Gould passed away after a six-year-battle with leukemia. Two days later, on Tuesday, March 27, Tom Ridgewell and Matt Hargreaves announced Edd's passing on YouTube through the video RIP Edd Gould (1988-2012).[1]
Tributes
Eddsworld was spotlighted by YouTube on Friday, March 30, 2012 and many users, including popular YouTube and Newgrounds animators, have voiced their condolences,[3][4]
[5][6][7][8][9][10] with several fans choosing to remember Gould through their own artistic works, such as animations,[11][12] claymations,[13] and pictures.[2]
Thomas Ridgewell's account
In his weekly Vokle update following Gould's death, Thomas Ridgewell stated that Gould's passing was "abrupt" and no one "saw it coming". He was weak and fighting cancer - he suddenly got sick when he was at home. He was watching Doctor Who at the time (an episode that was "funny"), and he got taken into hospital, where things got really bad really fast, and the doctors were telling Gould's mother that "he was done". They were going to give him a week. Ridgewell explained, "his body just kind of freaked out and he slipped away really, really quickly".
Ridgewell states he was informed of Gould's death by a phone call from Gould's mum on Sunday morning, around 10am, where she said he had passed away the previous night. He was hungover at the time but sobered up immediately. Ridgewell further explained that while the situation was explained to him, he couldn't really focus on it at the time, and "freaked out" for a bit. Matt Hargreaves called him and came over, and people started coming over throughout the day.
Tom decided to hold off on the announcement of Gould's death for a couple of days. The video RIP Edd Gould (1988-2012) was made on Monday. Ridgewell said it was "tough" to make; Bing was the assistant director for the video, and they all just kept quiet and worked on it throughout the day.[14]
Future of Eddsworld
Space Face
Main article: Space Face
The next episode of Eddsworld, Space Face, is the first episode to be released posthumously after the death of Eddsworld creator Edd Gould. The episode was split into two parts.
The first part is planned to be around 8 minutes long, with 1 - 2 minutes left to finish as of 1st April 2012. It debuted at the London MCM Expo on 26th May 2012, and was then uploaded to YouTube 6 days later.
Thomas Ridgewell and Matt Hargreaves will not be animating Space Face part 2 by themselves; it will be a collaborative video, as that was what Gould wanted if he knew he was going to die, as Ridgewell explained. A small selection of 5 - 6 animators will be working on it, including: Chris O'Neill (OneyNG), Zach Hadel (psychicpebbles), Harry Partridge (HappyHarry), and Yotam Perel (LazyMuffin), even though that idea was scrapped due to the fact that it would take months to finish. The second part is also planned to be roughly 8 minutes in length, though it is actually 5 minutes.[14]
Eddsworld under Thomas
"My friend just died and half a million people are waiting for me to be hilarious."
— Thomas Ridgewell
Edd's "dying request", as Ridgewell put it, although he admitted he was being melodramatic, was that he didn't want his show to end; he wanted Tom to keep it going. Ridgewell joked that he wasn't given passwords, and that he had to creatively get into most of Gould's accounts.
Ridgewell is now the lead writer, director, and producer for the show. Paul will replace Gould as the full-time animator, although weebl will be brought on to create the backgrounds, as Paul has stated he is "not very good" at them. Ridgewell plans for more "solid management", something he has always wanted to do regarding Eddsworld; ideally, he would like to produce one episode every month, with a length of roughly five minutes.
Ridgewell had discussed with Gould what they would do if Gould died, and planned to record lots of random lines of dialogue, but they didn't manage it. Edd will receive a new voice actor rather than being written out of the show - Ridgewell understands that some fans will hate this, but that there's "nothing else [he] can really do about that", and that the fans will have to accept it. The auditions will be held between close friends, and Edd's new voice will be touched upon in the animation as a joke - "a gag, basically".
Eddsworld is planned to be run by a dedicated team, and will even be a full-time occupation for a few people. All profits that aren't going towards the show will be going towards the Teenage Cancer Trust. Ridgewell states that if they do not have the funds to start up Eddsworld, he will possibly use either Kickstarter or Indie-Fund to get it up and running.
Ridgewell also aims to get the entire Eddsworld series available to buy on DVD. He plans to export the copyrighted music out of Gould's older movies and hire some musicians to redo some original music. He also stated that, again, extra profits will go towards Teenage Cancer Trust.[14]
Regarding the future of Eddsworld, Ridgewell left a message on the Eddsworld Facebook account:[15]
"
Hey Eddheads. My name is Tom Ridgewell (you might know me as the one from Eddsworld with black eyes).

For the past 8 years I have been the producer, co-writer and co-director of Eddsworld. Edd was also my friend and.. Well.. You can imagine that this isn't an easy time. Not for any of us; be it family, friend or fan. I'd like to take this opportunity to offer my sincerest condolences to everyone has been hit hard by Edd's passing. I'm so sorry.

But I knew Edd and how much he hated sadness. He dedicated his life to laughter after all! I'm not trying to cut the grieving period short but a lot of you have been worried so I'd like to take a moment to answer one of the questions you've all been asking.

"What's going to happen to Eddsworld?"

Me and Edd always talked (and joked) about what we'd do with the show if he wasn't going to make it. But we never really settled on anything particular. We always thought we had time.. But before Edd left he made it clear to his mother that he didn't want his show to end. Not with his death. Not after everything he and so many others had put into it.

Edd wanted me - he wanted us - to keep the show alive. And that is exactly what I'm going to do.

Eddsworld lives.

Obviously Edd took his voice with him. I can't help that. But I'll do my best to make it right. To give his character a new voice.

Please understand.. I can't bring him back. God knows I wish I could. All I can do is honour his memory and his wishes by giving you the best damn show you've ever seen. So stay tuned.

The world goes round, Eddheads. The world goes round.
"
Cremation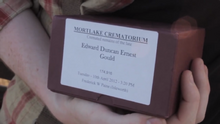 After his funeral, Edd was cremated. His friends Thomas Ridgewell and Matt Hargreaves scattered some of his ashes atop a mountain in Hollywood on July 12, 2012.[16] The majority of his ashes were buried on his birthday (October 28) in London. After the burial, the location was supposed to have been made public, so that anyone can visit, but hasn't as of October 2013 for an unknown reason.[17][18]
Video
References