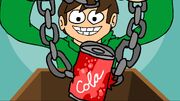 Coca Cola, often shortened to Coke and known simply as Cola in more recent eddisodes, is a recurring item seen throughout the series, serving as Edd's exaggerated addiction which also gives it a role in each Eddisode.
Known Consumers
Histories (alternate)
In WTFuture and Eddsworld Christmas Special 2005, the fate(s) of the product's company had disastrous consequences on Edd's life, where he attempted to spare himself from the future of a Coke-free life and where his non-existence would put the company out of business, respectively.
Variations
Role in Eddisodes
Coca Cola has been a subject of motivation in some but not all of Edd's journeys:
Coca Cola Appearances (Easter Eggs)
Coca Cola cans are seen lying around with no significant role in the following Eddisodes:
Ad blocker interference detected!
Wikia is a free-to-use site that makes money from advertising. We have a modified experience for viewers using ad blockers

Wikia is not accessible if you've made further modifications. Remove the custom ad blocker rule(s) and the page will load as expected.