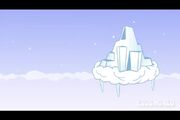 The Cloudberg is a cloud that appeared in The Snogre.
The Snogre
It appeared at the beginning of the short when Paul and Patryk unintentionally crashed their plane into it, causing them to spill their can of waste.
Trivia
As you would expect, cloudbergs aren't real.
Ad blocker interference detected!
Wikia is a free-to-use site that makes money from advertising. We have a modified experience for viewers using ad blockers

Wikia is not accessible if you've made further modifications. Remove the custom ad blocker rule(s) and the page will load as expected.