Anna is a female Eddsworld character appearing only in the comics so far.

Appearances
Anna first appeared in the fifth part of the Eddsworld Mystery Comic Arc as Matt's girlfriend. Edd and Tom demanded to know why Matt didn't tell them right away, but Matt doesn't give an answer leading to Tom barfing on Matt during their second date. The next day, Matt tells Edd that Anna dumped him and to cheer him up, Edd and Tom decided to take Matt to the Hall of Mirrors. In the end it was all a scam plotted by Matt to get them to take him to there.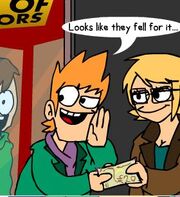 Ad blocker interference detected!
Wikia is a free-to-use site that makes money from advertising. We have a modified experience for viewers using ad blockers

Wikia is not accessible if you've made further modifications. Remove the custom ad blocker rule(s) and the page will load as expected.